There could be many reasons why you want to get a bathroom remodel in your Arlington home. One common reason is that you don't like and have never liked your existing bathroom. Another reason could be that your family has grown and you need more space in a smaller bathroom. Still, another reason could be that you want to sell your home, and you think that improving upon the bathroom will help bring in more potential buyers. Whatever your reason is for getting a bathroom remodel, it is essential to know the costs. What exactly will it cost for a bathroom remodeling in Arlington? Read on to find out more.
The national average to get a bathroom renovated could run between $6,600 and $16,000. The average homeowner can expect to pay about $10,000 to get a bathroom makeover in Arlington. This price may be substantially less or more, depending on many factors. For instance, if you have a budget-friendly makeover done, you may only pay about $2,500 for such a remodel. However, if you want a complete gut job and want to expand your bathroom space, you may be looking at prices upwards of $30,000. 
Getting a Bathroom Makeover For Your Own Enjoyment
In most cases, you will likely want a bathroom makeover so that you can enjoy your bathroom much more. In this case, you will probably want to go all out to make the bathroom the best it can be since you will be reaping the rewards. If it is a master bathroom, you can expect to pay $25,000 to upwards of $50,000 to make over the suite. Many homeowners dump plenty of money into this bathroom because usually, this is a full-scale remodel in which the entire existing bathroom is gutted, and the whole design is changed. Remodeling companies will have to rewire electrical, change the plumbing, input new floors and make other significant changes to accommodate the new design. The new improvements to your home should bring the value of your home up by at least 50 percent.  
A Bathroom Remodel for Another Family Member
Bathrooms outside the master may not be as valuable, but they can make the room more comfortable for a loved one. If the layout of the existing bathroom is fine and you only want cosmetic changes to the bathroom floor, toilet, shower, countertops, and vanity, you can expect to pay nearly $1,000 on the low end and $10,000 on the high end. The prices of this can substantially increase if you are creating a customized bathroom space for an aging parent. Some things you want to consider for such a project are walk-in tubs or showers, non-slip flooring, wider doorways, and easy-to-use faucets. Such a bathroom makeover can be pretty expensive. However, it is a great idea, particularly if you don't want your loved one to get injured while using the bathroom. 
Getting Your Bathroom Ready to Sell
One critical reason homeowners invest in getting a bathroom makeover is that they want to sell their homes. It is essential to keep in mind that while improving your bathroom is a good idea, you won't necessarily recoup what you invest in it. When it comes to remodeling your bathroom for this purpose, it may be a good idea to invest in mid-range updates of $25,000 or less. It may even be a good idea to focus on simple cosmetic repairs such as caulking and adding new hardware rather than investing in a full-scale remodel. You will only recoup about 50 percent of your investment in most cases. 
The cost to remodel your bathroom in Arlington can be pretty pricey, depending on how much you want to do to your bathroom. Cosmetic fixes will save you substantially because you may simply be repainting, adding a new floor, including new hardware, and installing a more energy-efficient toilet. However, if you plan to change the layout of your existing bathroom and include high-end features, the cost of your bathroom will be several thousands of dollars. Therefore, before getting started with your makeover, it is good to determine your budget before hiring a remodeling company. If you only have about $2,500 to spare, some bathroom remodeling companies can provide a budget bathroom makeover for this price and may even be able to complete the job within a day.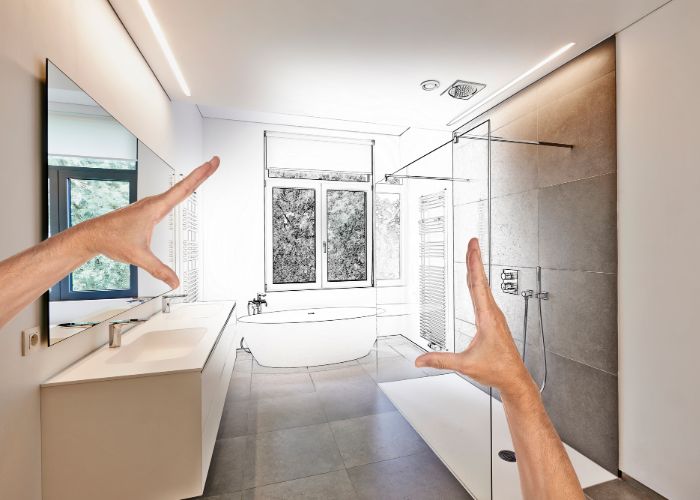 Are you ready to get started with your bathroom renovation project? Arlington Bathroom Remodeling and Design has provided excellent customer service and high-quality results for over two decades. We provide full-scale bathroom remodeling, walk-in tubs, and showers and can also convert your existing tub and shower combo into a shower-only installation. Call us today at (817) 396-7348 to schedule a free inspection and get a FREE quote that provides accurate cost of bathroom remodeling in Arlington.